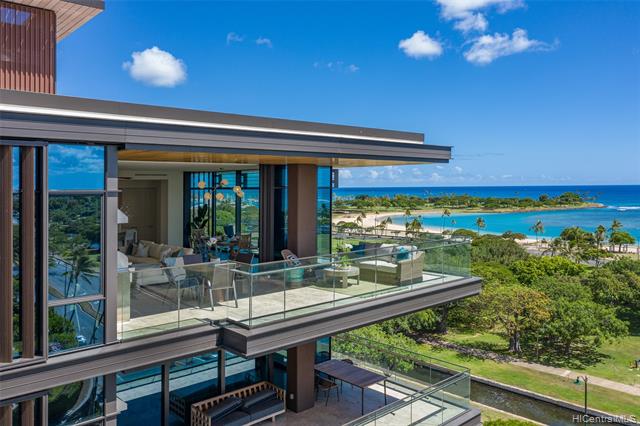 Expensive is not the only word that describes luxury real estate. High-end homes must provide access to shopping, dining, cultural hot spots, and more. They must be near other luxury homes. A rich history helps.
Location is number one for buyers of luxury homes. They want a waterfront location where they can drink in nature's beauty. Others prefer countryside and mountain scenery.
Privacy and exclusivity are important. Luxury homebuyers can afford custom architecture and design and elegant finishes.
Intelligent appliances and amenities – a gym, movie theaters/entertainment rooms, motion detectors, car lifts, and temperature-controlled wine cellars – are just as attractive.
Greater square footage is another must. The bigger the size, the more luxurious the home, and the higher its price.
Luxury houses also have premium materials: hardwood floors, Italian marble countertops, decorative granite mantelpieces, and quality stainless steel appliances.
A unique design is another trait.
Finally, there's prestige. Luxury estates with historical value, those that a star architect built, or a big celebrity lived in, fetch higher prices.
Why Hawaii ticks every box in the luxury real estate wish list
Hawaii has real estate properties with the luxury home requirements listed above. This is why it is a choice investment for luxury homebuyers. Of Hawaii's 137 islands, islets, and shoals, only five are available to live on and develop: Oahu, Maui, Kauai, Lanai, Molokai, and the big island of Hawaii. All five islands offer relaxation, luxury, and convenience.
Mark Twain once said that Hawaii has "the loveliest fleet of islands that lies anchored in any ocean." That still holds true today.
Modern facilities go hand-in-hand with pristine beauty. Hawaii has the most modern telecommunications system worldwide. In June 2020, Pacific Business News reported that Hawaii will get nearly $7 million in federal funds to implement intelligent transportation systems technologies. The money, sourced from a Department of Tourism Advanced Transportation and Congestion Management Technologies Deployment grant, makes sure cellular V2X technology is applied for traveler safety.
The package includes early real-time traveler updates, vehicle communications technologies, artificial intelligence, regional strategies, and bike-pedestrian safety.These modern amenities make Hawaii even more attractive to residents and visitors alike.
A luxury real estate overview of Hawaii
Resort-like estates boast ocean frontage with breathtaking views of sand and sea. Surf, dive, watch whales, swim alone or with dolphins, before or after going to a custom-built house with a high, vaulted ceiling and open lanai – or a luxury condo with breathtaking ocean views and amenities to match. Enjoy an exclusive roof deck, pool, concierge services, and easy access to places that offer the best food in Hawaii.
Some of the luxury properties you'll find include:
A remodeled mansion with big resale value. Buying one is more convenient than building a new house. However, buyers must contend with existing architecture, interiors, condition, style, etc. And since they're move-in ready, the key is speed in bidding for properties.
A luxury condo with maid and hotel-like services, a full-time doorman, high ceiling, terraces, private roof deck, pool, fitness center, and proximity to important modes of transportation also commands a high price.
A custom-built house where everything is new.
A luxury vacation rental property to invest in. While pricey, it's for those who want to savor Hawaii's tropical pleasures but want to make it available for others to enjoy. Mark Fitzpatrick, CEO of RUHM Destination Marketing, which specializes in luxury properties, says vacation rentals offer asset appreciation, tax deductions, business networking, and personal enjoyment.
In all of the above, strategic location is key. You'll want access to prime destinations and first-class amenities, including transportation options to get to and from island destinations.
Whether you choose to reside in an estate isolated from neighbors or a beachfront condo, you'll want options to ensure both privacy and mobility.
Here are the top-tier real estate locations in Hawaii:
Island of Oahu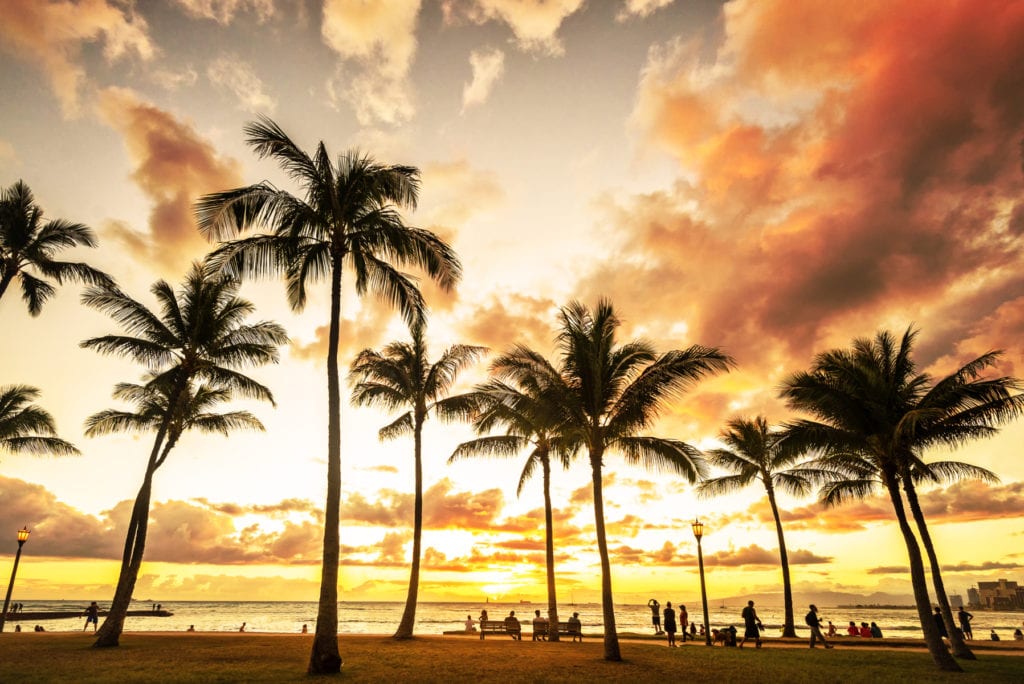 Hawaii's most populous island boasts of luxury golf resorts – Turtle Bay Resort, Ko Olina Golf Club, and the Greg-Norman styled Royal Hawaiian Golf Club.
Oahu is also a historical and cultural site. Important sites include Bishop's Museum, the Iolani Palace State Monument, the National Memorial Cemetery of the Pacific, and the Nuuanu Pali State Wayside. Pearl Harbor houses the USS Arizona Memorial, and the Hanaiakamalma and Washington Palace, where Hawaii's governors lived.
Oahu is a foodie's wonderland where one can savor Hawaii's unique cuisine along with Asian and European fare. The world's best chefs call Oahu home. Among them are Alan Wong, Roy Yamaguchi, George Mavrothalassitis, and Phillippe Padovani, founding chefs of the Hawaii Regional Cuisine movement 25 years ago. Their work sparked Oahu's restaurant renaissance.
There are local restaurants and mom-and-pop diners in small neighborhoods and high-end ones in Waikiki, Kaimuki, and Chinatown.
Vendors offer local arts, crafts, and food at Kailua Farmers Market.
Oahu sparkles with 112 miles of coastline, lush foliage, and world-famous beaches. Memories of family-friendly vacations consist of days and nights in windy beaches, scenic picnic grounds, and soft powdery white sand.
Surfing, sailing, swimming, snorkeling, diving, and paddle boarding in more than a dozen beaches including Waikiki Beach, Ala Moana Beach Park, and Diamond Head Beach Park and Nanakuli Beach Park, is sheer bliss.
East Oahu
This understated paradise is all about white sand beaches, food, shopping, and serenity. Created from a collapsed Hanauma Bay volcano crater, East Oahu is an amazing snorkeling site and doubles as a wildlife preserve. Hiking trails are awesome.
Among its best restaurants are Hoku's, a fine dining restaurant at the Kahala Resort and the original Roy's, a high-end chain serving fusion fare, in Hawaii Kai.
Kahala Resort itself is home to the Sony Open Golf Tournament, which happens every year in the second week of January.
East Oahu includes:
Kahala: Home to the most high-end real estate in HawaiiThis hub of luxury has some of the most high-end real estate in Hawaii. Prices in this part of the island cost around $1.5 million for land alone, and upwards of $20 million on the most luxurious oceanfront homes.Mansions with manicured lawns, palm trees, and tropical flowers abound. Celebrities and business moguls maintain vacation homes here. Kahala is also the first choice among investors who flip homes.Listings include vacation rentals with two pools, a private tennis court, multiple bedrooms and baths, and magnificent oceanfront views.
Kailua: Home to one the world's best beaches The community with one of the world's best beaches offers stunning mountain views, good weather, and business, shopping, dining and recreational options. Even if busy Honolulu is nearby, residents can avoid crowds, traffic, and the harried lifestyle in Kailua.Listings include gorgeous beachfront estates beginning at around $6 million. A single-family home starts at around $1 million. Condo prices start at $500,000.
Lanikai: Home to kayaking and breathtaking island views Its fantastic beach makes this upper-class residential area in Kailua a choice area to settle down in. What the beach lacks in size (only half a mile long), it makes up with natural beauty. The powdery soft white sand is irresistible. Lanikai's Mokulua Islands are top kayaking spots. Photos of the beach are staples of Aloha State postcards.Hikers flock to Kaelepulu Drive for its breathtaking views of Lanikai, Kailua, and Mokulua Islands.Vacation rentals stand side-by-side with top-end homes.
Hawaii Kai: Home to tide pools, blowholes, and nature's spectacular sights This paradise in southeastern Oahu is a mere 25-minute road trip from Waikiki. Hawaii Kai boasts spectacular sceneries over tide pools , boutiques, memorable hikes, coffee shops fronting the sea, and others. Check out Halona Blowhole Lookout, where nature spouts water from a blowhole
Exclusive neighborhoods in East Oahu include:
Portlock is a premier residential area with some of the most exclusive oceanfront properties in Oahu. A few are newly built, others remodeled, the rest waiting to be rebuilt. It has stunning ocean and sunset views. Several areas boast fantastic views of Diamond Head. Listings include homes that begin at $2.5 million with lot sizes between 11,000 square feet to over an acre. Real estate spans houses on Portlock Road and around eight properties along Kalanianao's oceanside.
Diamond Head, an extinct volcano associated with Waikiki Beach, has beautiful custom-built homes with magnificent views. Sitting on half-acre lots, these homes have a price tag starting at $2.5 million. Nearby Kapiolani Park and Gold Coast have some of the best beachfront condos on Southeast Oahu. Listings include units that start at $1 million for remodeled units.
Honolulu on the Island of Oahu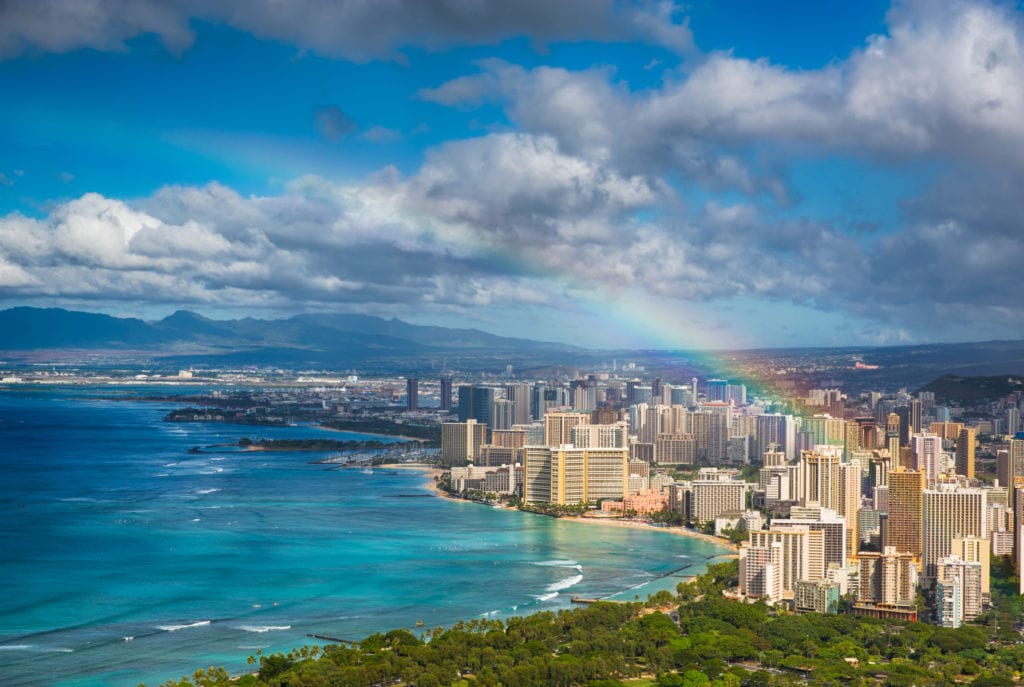 Hawaii's capital is a racing pulse bursting with history, world-class shopping, fine dining, and natural beauty. This cosmopolitan city is known for Waikiki Beach, where people can surf, swim, chill on the white sand, and enjoy the sun.
The food scene is particularly noteworthy. Kevin Aoki's Doraku restaurants have locations in Waikiki and Kaka'ako. Doraku is an izakaya-style bar that also serves the freshest sushi. 1938 Indochine is another Aoki restaurant, beautifully designed and offering a Southeast Asian-inspired menu.
Chef Zouhair Zairi's Farmhouse Cafe opened during the pandemic and quickly became a Honolulu favorite. Chef ZZ, as he's known to friends, was originally from Morocco and brings his French training to traditional Southern home-style cooking.
Important neighborhoods in Honolulu include:
Waikiki is Oahu's top hotel and resort area. A former playground of Hawaiian royalty, it boasts the world's first hotel, Moana Surfrider, which was built 1901.Iconic Hawaiian waterman Duke Kahanamoku grew up surfing here. Surf instructors continue his legacy by teaching guests how to surf and canoe.Duke Kahanamoku Statue on Waikiki Beach is now a symbol of Waikiki and Oahu surf culture.Besides beaches, Waikiki has Honolulu Zoo, Waikiki Aquarium with its monk seals, the Waikiki Historic Trail, The Royal Hawaiian Center, Waikiki Beach Walk, and the newly-transformed International Market Place.Sunsets are spectacular.Waikiki is a mere half-hour from Oahu's attractions like Pearl Harbor, Iolani Palace, Nuuanu Pali Lookout, and the Hanauma Bay Nature Preserve.
Kakaako is an urban centerpiece with a wide range of bars, beaches, and bistros. Breweries, restaurants and retailers are stylish and trendy. The neighborhood sits on the water's edge, between Downtown Honolulu and Waikiki.
Check out new luxury condos in Waiea, Anaha, Hokua, and Ae'o. Most condos constructed in the past 10 years have similar units and bear the stamp of quality: well-designed architectural features and elegant, modern design.
The Salt Complex is a favorite shopper's paradise.  But those who go for the outdoors will love Kakaako Waterfront Park's picnic grounds, jogging paths, rolling hills, and big amphitheater.
Island of Maui
The Valley Isle, Hawaii's second largest island and number two tourist attraction, is well loved.
Its world-famous beaches, sacred Iao Valley, migrating humpback whales, farm-to-table fare, and others are a feast for the senses. Condé Nast Traveler readers named it the "Best Island in the U.S." and "The World's Best Vacation Destination" for decades.
Over 30 beaches hug Maui's 120 miles of coastline. Maui's white, black, and red sand beaches, top surfing and windsurfing spots, choice swimming, snorkeling, and sunbathing areas are legend.
Maui's only black sand beach is a paradise for experienced snorkelers. It is home to reef fish, turtles, eels, and the occasional shark. Pu'u Ola's intricate lava formations jut into the water.
Take a horseback ride through Upcountry Maui. Enjoy jungle sites on an adrenaline-pumping zipline. Check out shops and art galleries in Lahaina.
Other must-visit destinations:
Hana Maui's stunning cliffs, bamboo jungles, waterfalls, and fragrant flowers
Kaanapali Beach Resort, Kapalua Resort, and Wailea Golf Club
The 33,265-acre Haleakala National Park has abundant waterfalls and pools and houses many endangered species. One can see a magnificent sunrise from its 10,023-foot summit.
Iao Valley State Monument, site of the Battle of Kepaniwai, and a 4,000-acre park, where the Iao Needle rises up to over a thousand feet
Haleakala Crater, a dormant volcano with stunning landscapes and skyscapes. Its Visitor Center offers magnificent sunset views and starry night skies.
Hiking trails with scenic views
The Whale Center's exhibits on the 1825-1860 whaling era
Alexander and Baldwin Sugar Museum
Bailey House's 19th century school
Kula's regional cuisine
Wailea: Home to iconic condominium complexes
This luxury resort community boasts 1,500 acres of crescent-shaped beaches, resorts, golf courses, stunning ocean views and others.
Swim and snorkel in Polo Beach. Jogging and walking enthusiasts will enjoy Ulua Beach Park.
Wailea is also known for the 54-hole championship golf courses in Wailea Blue, Wailea Gold, and Wailea Emerald.
Check out the popular snorkeling area and coastal lava field at Ahihi-Kinau Natural Area Reserve.
Explore the hiking trail at La Perouse Bay, where lava from the island's last eruption flowed into the sea.
The Maui Film Festival, Whale Week, award-winning restaurants, and excellent shops and spas are also popular.
The neighborhood also boasts iconic condominium complexes such as the Palms at Wailea, Wailea Elua and Wailea Ekahi, and the Grand Champions. Zoned for vacation rental, units start at $750,000.
Standout enclaves include:
Wailea Point, which sits on a bluff directly fronting the ocean, offers expansive units in a sprawling property. It's considered the best location in Wailea with great amenities and the Four Seasons Wailea just directly north. Impeccably maintained residences start at $2.5 million.
Wailea Beach Villas, close to the shops of Wailea, is a beachfront condo option with fantastic panoramic views. The units are zoned vacation rental, boasting great location and superior amenities. Units in the building typically sell at a minimum of $2.5 million.
Makena: Home to new developments and private beachfront homes
Multi-million dollar homes line the shores of Makena, which lies just south of Wailea.
Luxury residential options include:
Beachfront condominium developments such as Polo Beach Club and Makena Surf, which allow vacation rentals.
Na Hale O Makena lies a few yards away from the beach. It offers spectacular views, a private setting, and 3,000-square-foot, 3-bedroom units. Units sell at $2 million and above.
If you're thinking of investing in a luxury home in Makena, know that it's home to some of Maui's best beaches such as:
Big Beach
Located at Makena State Park, Maui's best beach has a wild, isolated vibe. Crystal clear water, turtles, and stunning views of Molokini Crater and Kaho'olawe are impressive.
Black Sand Beach (Oneuli Beach)
Maui's only black sand beach is paradise for experienced snorkelers. It is also home to reef fish, turtles, eels, and the occasional shark. The south end has intricate lava formations jutting into the water.
White Rock Beach (Palauea Beach)
This off-the-beaten-path beach is great for snorkeling and sunbathing. It shelters turtles, and the water is calm and clear. Keawe trees shield guests from the sun.
Other attractions you'll enjoy:
Makena Resort Golf Club, designed by Robert Trent Jones Jr., has Hawaii's best course. It boasts fast greens, steeper slopes, a practice range, and others
Food trucks peddling kalua pork and fish tacos
Turtle Town, where Hawaiian green turtles thrive in cliffs and caves fashioned out of lava
Kaanapali: Home to Maui's first planned resort
Hawaii's first planned resort has become a standard for resorts worldwide. Five hotels and six condominium villages in Kaanapali face the beach spanning three miles of white sand and crystal-clear water.
World-famous Ka'anapali Beach & Black Rock is lined with gold/white sand. Snorkeling and cliff diving are available.
Other attractions:
The open-air Whalers Village, a small, world-class shoppers' paradise
A whaling museum
Free entertainment
Two championship golf courses, Royal Kaanapali and the Kaanapali Kai
Daily cliff diving off Kaanapali Beach
Zipline tours by Kaanapali Skyline Eco Adventures
Resorts like Hyatt Regency Maui Resort & Spa, Kaanapali Beach Hotel, Royal Lahaina, Sheraton Maui Resort & Spa, The Westin Kaanapli Resort Villas, and The Westin Maui Resort & Spa
Kapalua: Home to Maui's top resorts
One of Maui's top resort areas found at the foot of the West Maui mountains has a lovely shoreline with five bays and three white-sand beaches. One of them was proclaimed "The Best Beach in America" by the University of Maryland.
Kapalua Bay is a favorite site for weddings and receptions. This pocket paradise is great for snorkeling and surfing.
The master-planned Kapalua Resort houses Ritz-Carlton Kapalua, award-winning restaurants, boutique shops, historic sites, and two renowned golf courses, including the Plantation Course, home to the PGA TOUR's Tournament of Champions and Bay Course, site of the 2009 Kapalua LPGA Classic.
The well-known Kapalua Wine & Food Festival is held here.
No wonder Kapalua boasts luxury real estate, with spectacular homes lining the coast and surrounding exclusive golf courses.
Let John Greene show you the best luxury homes for sale in Hawaii
Yes, investing in Hawaiian luxury real estate is worth it. Let me, John Greene, show you the best places where you can make your money work for you.
I have 20 years of experience in successful Hawaii real estate transactions, and it's my pleasure to give you and your family the best the Aloha State offers. Here's what some of my clients say about my work.
Contact me at 808.442.2934 or at jgreenehawaii(at)gmail(dotted)com to get started on finding your luxury real estate investment in Hawaii.